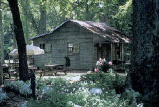 View Polly's Cabin
Joy loves to talk to
gardening friends!
Ask a question too!
E-mail her!
joybbr505@gmail.com
Phone 601.529.1148

For tours & B & B,
call 601-529-1148

Book a Tour
or Stay in Polly's Cabin
Linden for Every Season
Linden Plantation Gardens is an all-season wonder with many faces. From the glorious azaleas in spring, to the friendly perennials and annuals in spring and summer to the fire of fall and the contrast of winter.

The spirits of its native American residents join those of the Blue and Gray, General Sherman, the Vick and Brabston kin, and ancient magnolias and cedars to welcome you down the sunken road into Linden Plantation Gardens.

The unique house showcases the historical period. Experience the ambiance of the old made new as you are welcomed to Linden Plantation Gardens.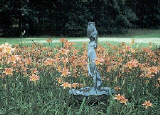 Rare Hummingbird
Makes Linden Plantation
Its Winter Stopover
Full Story